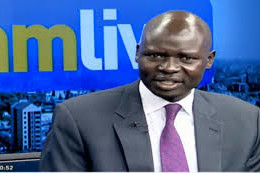 Photos: Late Isaiah Abraham (top right) and Dr. Peter Biar Ajak (below) 
Thursday, August 02, 2018 (PW): Another activist in one of Juba's national security detentions, another outcry from human rights organizations to release him, another family worrying about their son, and the count goes on and on. While brute force, assassinations and intimidation have been the order of the day, the struggle for dignity and freedom continues in South Sudan in all its forms and means.
The latest arrest of Dr. Peter Biar Ajak who is a founding member of the country's Red Army Foundation is a clear violation of the constitution of South Sudan, media freedom and freedom of expression laws in the country. It is a violation of the country's Bill of Rights which gives citizens the right to express their opinions and conscience, which are fundamental rights that are observed in all civilized societies, except when a government is in absolute and contemptuous disregard for its own constitution and national laws.
Article 14 of the Bill of Rights grants all of us, the citizens of South Sudan the right to express and publish our opinions as citizens of the country.  It states that "every citizen shall have the right to the freedom of expression, reception and dissemination of information, publication, and access to the press without prejudice to public order, safety or morals as prescribed by law."
For the rule of law to reign in any country- or even semblance of rule of law,  the prejudice check in article 14 must be determined by a competent court of law through following legal proceedings, not by security operatives who are inevitably politically directed and motivated.
Therefore, in case the country's national security has anything against Peter Biar Ajak, he must have already been produced in court in compliance with article 29(4) of the Bill of Rights which states that "a person arrested by the police as part of an investigation, may be held in detention, for a period not exceeding 24 hours and if not released on bond to be produced in court" where he will have the right to defend himself according to sub-article 7 of the same article.
The Bill of Rights is the foundation of a democratic state and the social contract therein. It provides basic minimum standards of behavior expected and required of both citizens and public authorities, including law enforcement agencies of the state. Any deviation, however perceived "insignificant" or "necessary" according to violators, is a red flag which must be addressed before it breeds contempt of the rule of law. When left unaddressed, a crack appears in the social contract between citizens and public authorities.
Because of numerous violations of the country's Bill of Rights, many cracks have already justified the need for another social contract between the citizens of South Sudan and new sets of competent citizens to begin a new page of freedom, liberty, and development in the country.
The citizens of South Sudan are being treated like third class strata in their own country, with their basic rights denied including the right to life. This situation has made the country not only among the worse, but by far the worst in the world in terms of all indicators and international measurements for ranking failed states. Indeed, ours is a unique case of state failure and authoritarianism.
The Red Flag League adds its voice to credible national and international human rights groups and calls on the government of South Sudan to respect the constitutional rights of Dr. Peter Biar Ajak and many other prisoners of conscience in the country.  They ought to be presented in court to get their charges read to them so that they may exercise their basic right to defend themselves.
Free Citizens Red Flag League (FCRFL) is a South Sudanese peace, development and human rights advocacy platform. It can be reached at freecitizensrfl@gmail.com.
The opinion expressed here is solely the view of the writer. The veracity of any claim made is the responsibility of the author, not PaanLuel Wël Media (PW) website. If you want to submit an opinion article, commentary or news analysis, please email it to paanluel2011@gmail.com. PaanLuel Wël Media (PW) website do reserve the right to edit or reject material before publication. Please include your full name, a short biography, email address, city and the country you are writing from.